It's My Heart
Children's Heart Foundation
Hilton Publishing, 2011
It's My Heart is a guide for parents and families whose kids or loved ones have congenital heart disease (CHD).
Everything parents and patients need to know about heart disease in children, explained in easy-to-understand "parent speak."
Order a free copy from The Children's Heart Foundation.
Heart Warriors: a family faces congenital heart disease
Adams, Amanda Rose
A Behler Publications Book, 2012
Heart Warriors initiates a powerful dialogue about infant mortality and hope. Includes a Parents/Family Field Guide.
Zip-Line
Humpherys, David
A book for children to help them understand the
Walk on Water: The Miracle of Saving Children's Lives
Ruhlman, Michael
Penguin Books, 2003
A rare and dramatic glimpse into a world where the health of innocent children and the hopes of white-knuckled families rest in the hands of all-too-human doctors.
The Open Heart Club: A Story About Birth & Death & Cardiac Surgery
Brownstein, Gabriel
Hachette Book Group, 2019
This absorbing and poignant book is not merely the story of one writer's flawed heart. It is a history of cardiac medicine, a candid personal journey, and a profound reflection on mortality.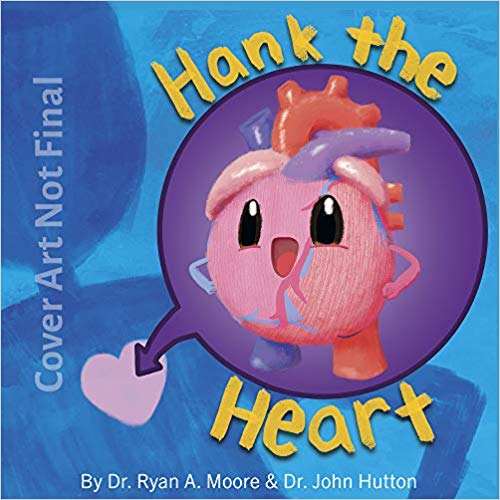 Hank the Heart
Moore, Ryan A.
Hank's a real heart, not like a Valentine—but he's the most lovable friend you'll ever find! Children will have fun getting to know Hank, as he leads them on an amazing tour of…himself! They'll learn what Hank's made of, how he works, how to keep him healthy, how doctors and nurses learn about him, and heart differences that children can be born with and how these can be fixed.
The Abilities in Me: Congenital Heart Defect
Keir, Gemma
Self-Published, 2019
This picture book is dedicated to young children born with a congenital heart defect, also known as CHD. Explore the day in the life of a little girl with CHD through bright, colourful illustrations and text. Perfect for teachers, parents and children alike, this book will bring awareness of the condition and teach children how to be supportive and be kind. This is the second book released from The abilities in me book series. This collection of books will show how each child can celebrate their abilities within their disability, find acceptance and create awareness to those around them. This picture book is aimed for children between the ages of 3-8 years. The character in the book is dedicated to Ivy Adams.
Super Heart Hero
Kelly, Samantha
Come along as a mother tells her son about his journey with CHD. From his open heart surgery, to the nurses who took care of him, to his cardiology appointments. Join as this mom reveals to her son that he is a super hero, indeed! The sing-songy rhyme and rhythm coupled with the vibrant illustrations make this the perfect book for your little ones with CHD. It is a great, age-appropriate, tool for opening up a dialogue about your child's scar and their cardiology care. "Superheroes do exist. I know this to be true. Kids with CHD are superheroes through and through!"